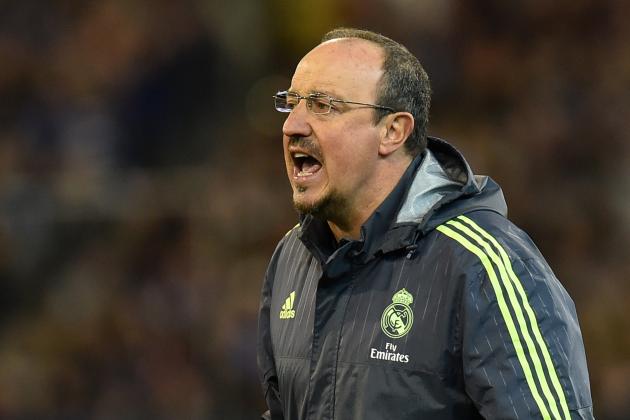 It was an image designed to stir optimism, Real Madrid using the most modern of methods to convey a message, an idea. On June 3, the club took to its official Twitter account to communicate its news that Rafa Benitez had been appointed as manager, releasing a graphic of the Spaniard that, in essence, attempted to explain why he'd been hired.
Accompanied by trophies and the names of his previous stops was a side-on picture of his head. Splashed across it were tactical diagrams; all
Xs
and Os, dotted lines, bending arrows and the outline of a formation. The intended message was obvious: Real Madrid had signed the tactical mind they needed.
Naturally, the cynics will argue Benitez isn't the man Real wanted, but simply the only man Real could get. The optimists, meanwhile, might feel that, while he's far from perfect, his intense, strong-willed approach will address one of the club's shortcomings last term: a lack of systematic balance. And they have a point.
Under Carlo
Ancelotti
last season, a campaign that commenced so brightly burned out steadily. Pinpointing exactly where it went wrong is difficult; the contributing factors were heavily intertwined, issues such as key injures, fatigue, a lack of rotation, a skewed squad balance and a gradual evaporation of chemistry all unfolding concurrently. What started the rot? Which factor came first? Did the fatigue cause the injuries or did injuries cause the fatigue? The questions are the chicken-and-egg sort.
However, if you examine Real Madrid's unravelling in 2014-15 from a broader perspective, the club's problems stemmed from an over-reliance on sheer talent and the neglect of sound footballing principles. Consider
Ancelotti
's 4-3-3 formation: The system was spearheaded by three superstar forwards, a trio backed-up by three more attacking talents in midfield.
At its best, such a lineup was jaw-dropping, oozing flair, power and swagger in an attacking cocktail that prompted this writer to ask whether
Ancelotti
's team might redefine the way we perceive systematic and positional balance. At the time, the possibilities felt endless. But realities quickly kicked in.
Instead of changing our view of the principles underpinning success, what Los
Blancos
had stumbled upon was a recipe of tiny margins: At 100 percent it was remarkable; at 99 percent it didn't work. With a balance that was all too precarious, Madrid didn't have any wriggle room—room for error. Either they were devastating or devastated, a plethora of performances sitting at either end of the spectrum but with little in between.
Think of the contrast between the outings against Liverpool and
Schalke
; Granada and Real
Sociedad
; Barcelona (the first time) and
Atletico
Madrid. There was a boom-or-bust feel to it all by the end.
Essentially, it's that broad theme that Benitez needs to change. He needs to take this Real Madrid outfit away from the fine-tuning perils of a Formula One car and more toward the greater reliability of an all-rounder. His formation will be central to that.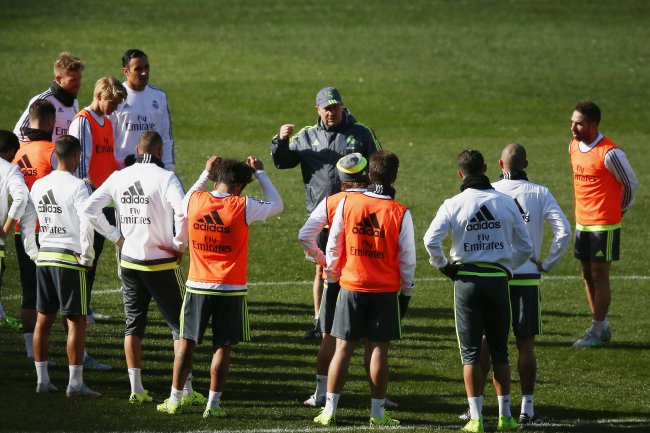 A strong advocate of the 4-2-3-1, Benitez will look to add a greater sense of two-way commitment at the
Bernabeu
, striving for a balance between defence and attack that was absent at various junctures last term. Certainly, his history as a defensive schemer has many doubting his ability to oversee the fluid attacking machine the club craves, but there are two important points to consider here: First, encouraging signs have existed thus far in
pre
-season, and second, this is a Real Madrid outfit that doesn't need help to score.
This is a team that possesses Cristiano Ronaldo, Gareth Bale, Karim
Benzema
and James Rodriguez; a team that was the most prolific in Europe last season; a team that put together scorelines of 9-1, 8-2 and 7-3. Benitez can trust he already has the firepower; Real Madrid aren't an outfit needing attacking improvements. Instead, it's going the other way that remains the point of focus.
In that regard, the 55-year-old's characteristic 4-2-3-1 makes a lot of sense. Behind a sparkling attacking quartet, the presence of a two-man midfield pivot should add a dash of conservatism to the XI, Benitez's only choice being whom he chooses to deploy there.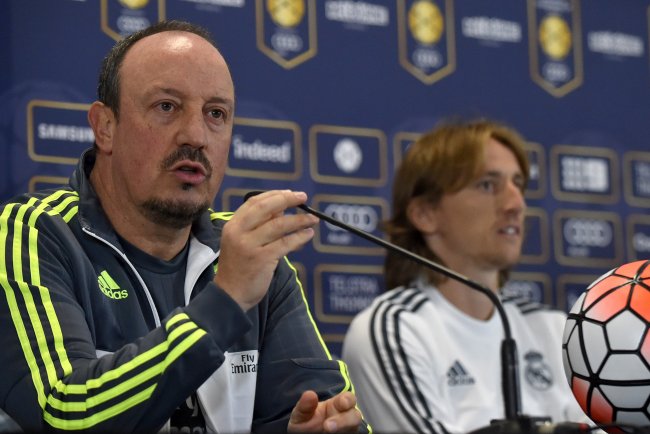 In primary consideration will be Toni
Kroos
and
Luka
Modric
, the silky pairing who were often present for Real's best football last season. In a sense, their partnership in a 4-2-3-1 would be similar to the one they formed in the 4-4-2
Ancelotti
switched to at times in 2014-15. So why not use that?
Essentially, such a shape forces Bale into a peripheral existence, shunting him to the side of a four-man midfield and quelling his goal threat. Having cost €100 million, Bale can't be that sort of afterthought, and president
Florentino
Perez will make sure he isn't.
Thus, the 4-2-3-1 is the obvious system to turn to after the demise of a 4-3-3 that needed the gut-busting running of Angel Di Maria and the positional awareness of Xabi Alonso to function optimally. It's also a system that provides natural positions for Real's supporting cast:
Isco
is a born-and-bred No. 10,
Casemiro
and
Asier
Illarramendi
will plug nicely into the midfield pivot to add a defensive edge, Lucas Vazquez and Denis
Cheryshev
are neat fits for the wide berths and
Jese
looks an appropriate understudy for
Benzema
up front.
Benitez's favoured system, therefore, looks to be conveniently suitable for his latest club, catering to both the squad's composition and the team's primary need. After a 4-3-3 that was dynamic but fragile, explosive but ultimately flawed, the Spaniard's 4-2-3-1 can help to bring a sense of balance to a side that has lacked that very commodity.
The idea will be to give Real Madrid some margin for error, to minimise the difference between Los
Blancos
' best and worst. For Benitez will know that all Real's firepower needs is a complementary dose of sound footballing principles—the sort their previous system threatened to redefine but only ended up proving.